Bradenton Local Moving Company Servicing All Florida
Don't just hire any old moving company. Hire a family that you can trust.
The best quality of service is provided by a family owned and operated business. The care and attention we take when handling our customers items is unmatched by any competitor. Our perfect 5-star ratings speak for themselves. When you trust Brothers America Moving with your belongings, we handle them like they are our own.
When moving locally, Brothers America will handle any move that you have. Big or small, heavy or light, full service, or a helping hand. We have got your back! It takes years of experience to handle every situation that appears when moving. We don't just hire anyone. Movers at Brothers America are friendly, patient, and honest young men.
Begin your new chapter in your new home with a smile on your face. Your kids may be starting at a new school, or you may be starting a new career. Whatever your reason for moving, you can always trust Brothers America to get you there safely.
Brothers America offers the moving services that you are looking for. Full Service (Packing, Transport, Unpacking) as well as Partial Moving Service. All moves are treated with equal standards of care, no matter the size. Your furniture is always properly padded and wrapped before we load it onto the truck.
It takes skill to be efficient yet careful while moving heavy furniture. Moving between apartments and condos presents new challenges that require both. It is important to hire professional movers to ensure a fun and comfortable transition.
New obstacles are created when there are stairs, elevators, and hundreds of residents at the same location. Brothers America has the necessary experience and proper equipment to handle your apartment or condo move. Skill while driving a truck for proper positioning and sufficient man-power to stage, load, and unload an elevator in a timely manner are just a couple of the things required for a successful move.
A perfect 5-star rating does not just happen. It takes professionals who take pride in what they do.
Moving your business or office puts everything on hold. Trust only the professionals that will get you to where you are going without missing a beat. Brothers America has moved an entire pharmacy, aquarium store, art studio and non-for-profit building, just to mention a few. We have the experience that you need.
If you are a business looking for a dedicated delivery service look no further. Brothers America currently handles pickups and deliveries for numerous furniture stores, thrift stores, and flooring stores. Contact us to set up a consultation for your business delivery request.
Safe/ Piano / Specialty Item
Moving large, heavy, and expensive items should be left only to a trained professional. Relocating these items presents hazards that are dangerous without the proper training. These items are often delicate and require proper care, technique, and equipment to get the job done properly. Brothers America provides the experience and equipment needed to safely handle these large tasks.
Brothers America Moving transports pianos, safes, hot tubs, stone sculptures, etc. We always arrive properly equipped with a truck and 4000+ lb lift gate to transport even the heaviest items. We carry piano boards, safe dollies, pallet jacks, walk ramps, and everything else needed to move your special belongings.
Brothers America holds a special place for our senior customers. We understand that you have moved plenty of times in the past. Our company takes pride and strives to be the best movers that you have ever hired. From planning and organizing to moving and unpacking, we assist our clients every step of the way.
We accommodate seniors with moving to new homes, independent living facilities, and assisted living facilities. Our friendly team always takes care of you and your belongings. Contact us to discuss the many options that you have for your upcoming move.
Brothers America offers moving labor services for any job that you have. Loading or unloading a truck, moving heavy items around the house, or rearranging a room. We bring the muscle; you just tell us what needs to be moved.
Our team comes fully equipped with dollies, protective padding, floor covers, and if necessary, a truck to safely move your items where they need to go. We bring quality tools to professionally assemble beds, cabinets, and other furniture items. We also offer TV mounting and picture hanging services to complete the job.
Brothers America offers professional and painless junk removal and full cleanout services. We also offer light demolition services for bulky or built-in items. We make getting rid of your unwanted items easy and stress free.
Sometimes you have unwanted items that don't fit in your new home. Sometimes you need all contents bagged and removed. We donate what we can and discard the rest. Do you have an underground hot tub that you need removed? Our team will cut it, remove it, and fill the hole. Do you have an entire household that needs to be removed? We will load the items onto our dump trailer and handle the rest. Brothers America understands that removal of unwanted items is often a part of moving. Our team is here for you every step of the way.
Our Movers Are Dedicated to Customer Service
Zach and Chris did an outstanding job on a recent move for me. They were on time, professional, courteous, very careful, and operated extremely well together as a team. They treated my items being moved and the property on both ends of the move like it was their own. The final time and cost came out to be just about exactly what Zach had estimated it would be weeks before the move when we spoke. I would highly recommend Zach and his Brothers America team to anyone looking for a pleasant, stress free and quality moving experience.
Sandy Pepper
February 2022
I had an unscheduled delivery of a very heavy safe. It was left on my driveway. Brothers America Moving agreed to help me. They arrived on time, worked quickly, and had the safe in place in record time. They are a great team! I highly recommend them and would certainly use them again if needed.
Molly Lawson
February 2022
Great locally owned and very well run company. They were the best part of our move! Handled all of our furniture with care and everything was wrapped and protected. There estimated cost and length of time to move was spot on. No surprises. They were professional, courteous, and great value. Would use again and highly recommend.
Get the Best Moving Service at a Price You Can Afford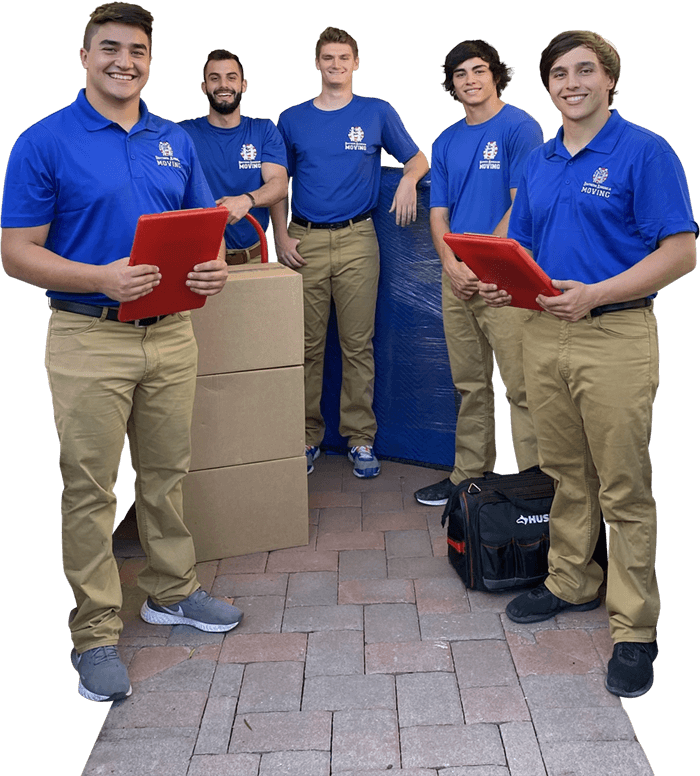 Gather Info about Your Move
This includes your preferred move out/move in dates, initial and final locations, a general description of your contents, if you will be hiring our packing services or you will pack, and if you have any special items that will be moved.
You can contact us via Call or Text, or you can email us through the Free Quote Form. For quickest response, contact us via Call or Text. If you have an inventory list and specifics pertaining to your move, please fill out our Free Quote Form and we will contact you ready to discuss your move.
Brothers America Moving provides a free over the phone or in person quote. For larger and more specific moves, we perform a free walkthrough to properly assess your move. For half day or single item moves, we provide a free over the phone quote.
When you feel comfortable and are ready to book, we lock in your moving date and provide a confirmation email or text. See you on moving day!
Fill out the form below or call (941) 685 – 7807. A moving a professional will be contacting you soon.