Florida Interstate Mover Servicing All United States
Brothers America Moving is committed to providing unmatched long distance moving services at very competitive rates that work for you.
Cross Country Moving that Works For You
Moving your cherished belongings across the country is one of the more pivotal times of your life. Brothers America Moving is a 5-star rated company here to service all of your long-distance moving needs. No matter your reason for relocating, our team makes your move simple.
We offer complete packing and unpacking services where you don't lift a finger, expedited direct delivery, and storage options to fit all of your moving needs. As a leader in the moving service industry, we understand that all moves are different. Every long-distance relocation is a custom planned experience that receives the same family owned and operated formula we are famous for.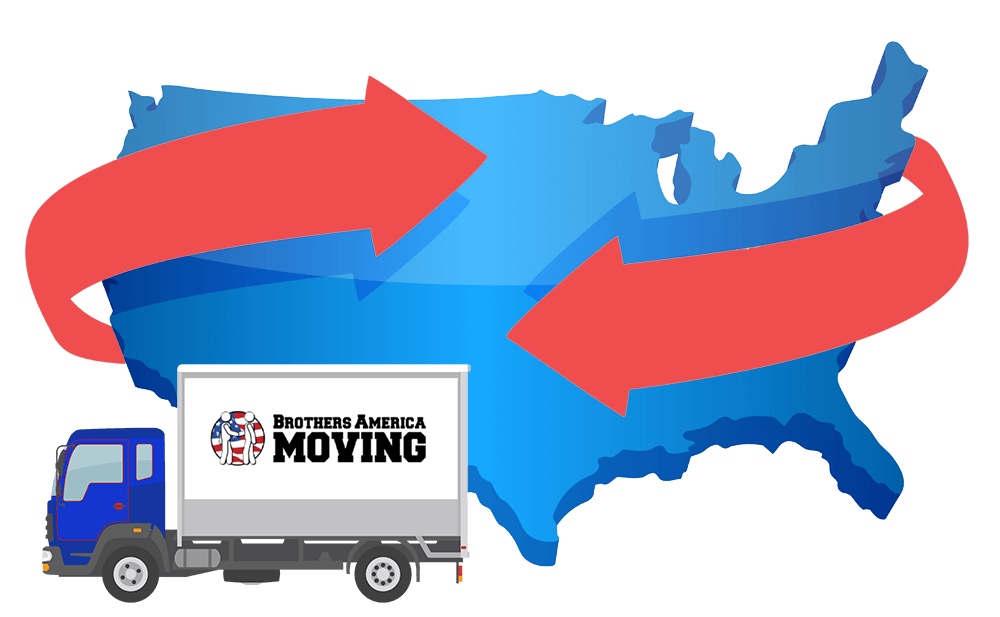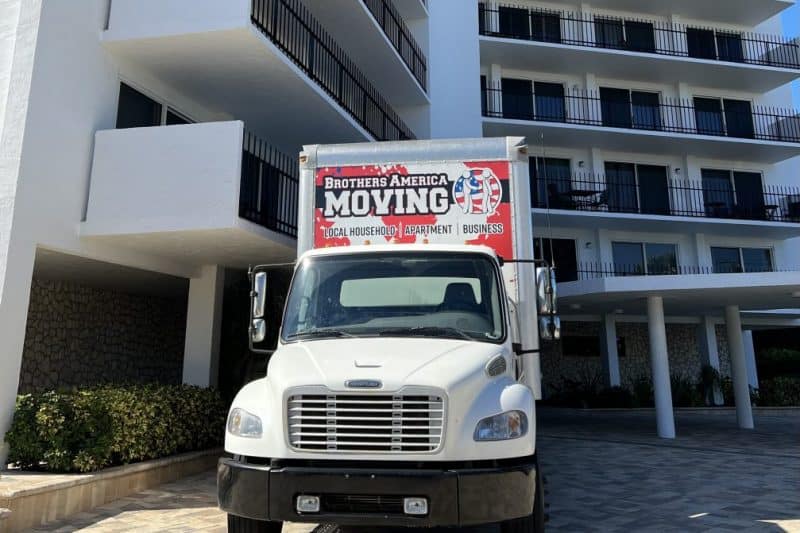 You can Trust Brothers America Moving
The quality of service offered by Brothers America Moving is unparalleled by other companies. We are completely owner operated. This means that one of our owners will personally oversee and service every step of your move. We are not a broker who subs your move out to another company you don't know.
Our team of professional movers know how to package, wrap, handle, and load your items so that they arrive in the same condition as received. Our movers care for your items as if they are our own. Nowadays this is a service that can be very difficult to find.
Our national reputation is important to us as we are building something that matters. A long-distance moving service you can trust.
Receive the Best Long-Distance Moving Service at a Price You Can Afford
Expedited Interstate Moving Service
Brothers America Moving offers expedited Direct Delivery long-distance moving. Often when relocating across the country, you want your belongings to arrive when you do. Brothers America creates a custom moving plan that fits the schedule of every client. We provide exact date of delivery when planning your move. Our movers can load the truck and leave same day or load the truck and store until your new home is ready. Our team is committed to exceptional quality on each move that we service.
Bradenton Long Distance Moving Company
Full-service Long Distance Mover to Anywhere in the Country
Brothers America Movers are experienced professionals who know how to masterfully pack all furniture and household items. We utilize only quality materials to ensure your items arrive in the same condition as received. We offer custom moving plans to suit your specific moving needs.
Full-service pack and unpack or partial service where you pack what you want and we pack the rest. Furniture is always professionally packaged and stretch wrapped by our team in quality quilted furniture pads, sheeted 7 ply paper pads, mattress bags and boxes, etc.
Our team disassembles and reassembles your items. We also offer custom crate building and packaging for delicate items such as pianos, artwork, chandeliers, and any other special items that you may have. Brothers America Moving provides the utmost care to all of your items on your long-distance relocation.
Intrastate / Interstate Moving with Storage
Brothers America Moving offers short-term and long-term storage solutions. There are many reasons for storage during an interstate relocation. Brothers America exclusively utilizes climate-controlled storage facilities for all long-term storage. We understand the importance of air-conditioned climate-controlled storage for protecting your valuable belongings and will never settle for less.
If your items can't be delivered immediately and only require a short term (few day) lapse in delivery, our team has the solution for you. We secure your items in the locked truck at our gated facility. The facility is always camera video monitored and overseen by one of our representatives. Brothers America Moving guarantees safety and security for all of your items.
Our Movers Are Dedicated to Customer Service
Zach and Chris did an outstanding job on a recent move for me. They were on time, professional, courteous, very careful, and operated extremely well together as a team. They treated my items being moved and the property on both ends of the move like it was their own. The final time and cost came out to be just about exactly what Zach had estimated it would be weeks before the move when we spoke. I would highly recommend Zach and his Brothers America team to anyone looking for a pleasant, stress free and quality moving experience.
Sandy Pepper
February 2022
I had an unscheduled delivery of a very heavy safe. It was left on my driveway. Brothers America Moving agreed to help me. They arrived on time, worked quickly, and had the safe in place in record time. They are a great team! I highly recommend them and would certainly use them again if needed.
Molly Lawson
February 2022
Great locally owned and very well run company. They were the best part of our move! Handled all of our furniture with care and everything was wrapped and protected. There estimated cost and length of time to move was spot on. No surprises. They were professional, courteous, and great value. Would use again and highly recommend.
Long Distance Move Quoting Process
Gather Info about Your Move
Each Long-Distance Interstate move is different and personal. It is helpful to know what information we ask during the quote process when contacting our team. During the initial consultation, questions we cover are your move out/move in dates, initial and final locations, overall description of your contents, if you plan to pack yourself or hire our packing services, and if you have any special request items that will be moved. From there, all remaining information will be gathered during the in-home quoting process.
You can contact us via Call, text, or email through the Free Quote Form. Call or Text will receive the quickest response. If you have already prepared an inventory list and know specifics pertaining to your move, please fill out our Free Quote Form and we will contact you ready to discuss your move.
Brothers America Moving provides free no obligation quotes for all long-distance moves. We first perform a free walkthrough to properly assess your move and gather all necessary information. We then gather rates, create a custom move plan, and provide the flat rate quote via email.
When you feel comfortable and are ready to book, we sign the moving service contract, lock in your moving date and provide a confirmation email or text. See you on moving day!
Get the Best Moving Service at a Price You Can Afford